Common Cycle is a community-based organization empowering Ann Arbor to ride bicycles by providing access to education, workspace, and resources.
Getting Started
Common Cycle started in 2010. We are excited about not only bicycling but getting more people on the road with their bicycles. Every person using a bicycle with confidence makes Ann Arbor a better place.
To ride your bike, you need a bike, you need safety equipment, and you need to know the rules of the road (turns out they are pretty much the same as driving). But none of that is going to do you any good if your bike is busted up or in the shop. We want to help people ride their bikes more by teaching them how to keep their bikes happy. Happy bikes make happy people make a happy community.
We operate a community workspace in downtown Ann Arbor at 416 W Huron St. This is a place where you can work on your bike with other people. We have tools, workstands, and knowledge to advise and support you in learning to work on your bike. We also host regular maintenance courses and programming dedicated to those underrepresented in using and riding bicycles.
Hopefully we can help you out with your bike, or you can join us and help others. We hope to meet you and that you'll be excited by the idea of working with us to build and support a collective bike workshop in Ann Arbor.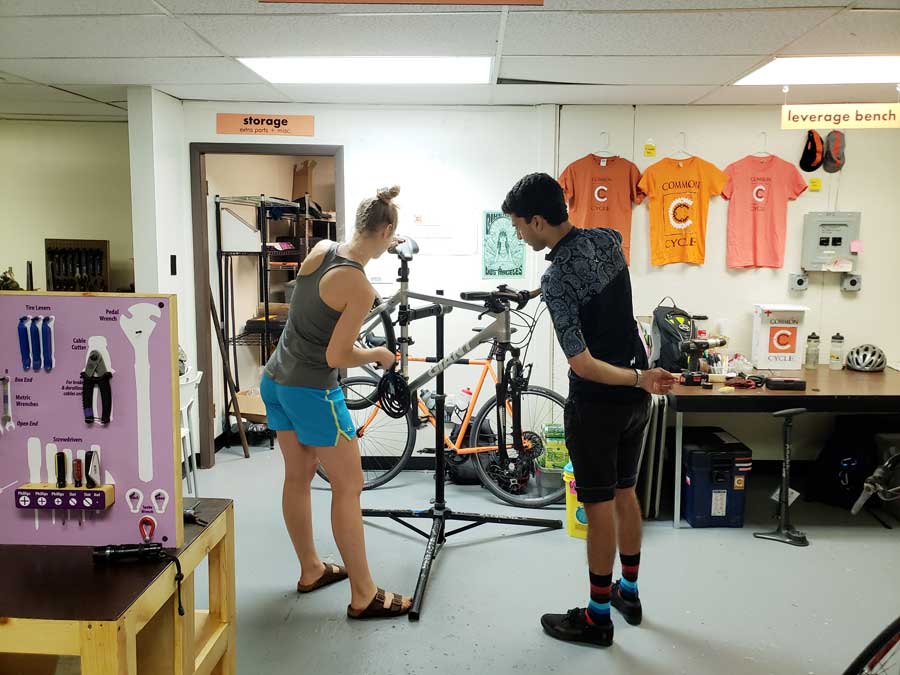 Commitment to Sustainability
Support for sustainability is part of Common Cycle's approach to the world and to bike repair, and is central to our mission. Our workshop is intended to serve as a third-place where people interested in and excited about using bicycles can hang out, learn new skills and help others to do the same.
Our goals are to lower the barriers for folks to keep their bicycles rolling, as well as, through our work with partner organizations, to connect those without the means to obtain a bicycle with a reliable set of wheels. We exist to support people however they'd like to ride – whether for recreation, fitness or as a mode of transportation. Access to tools, workspace and maintenance knowledge, we believe, is central to giving people confidence to rely on their bicycle (and, as a result, enjoy all of the benefits of using a bicycle and keeping it running).
In addition, our volunteers are actively engaged in landfill diversion, from refurbishing serviceable bicycles and making use of used parts.
Common Cycle is also a Washtenaw County Waste Knot community partner and a collaborator with the City of Ann Arbor's A2Zero program.