Here's a list of helpful resources for taking care of your bike. Keep checking this space, as we'll be adding more!
The Common Cycle Community Workspace
We maintain multiple sets of shop-quality bike tools, including many specialized tools at our community workspace in downtown Ann Arbor. Stop by for help during our open hours. Learn more here.
Public Pumps, Tools & FixIt Stands
We maintain a (hopefully) up-to-date list of public pumps, sets of tools, FixIt stands, and other on-the-go bicycle resources in Ann Arbor and Ypsilanti.  Check out this map for many places to pump up your tires for free. Let us know if you notice updates we could add to this map. You can get more info, send updates, or ask questions by emailing pumps@commoncycle.org.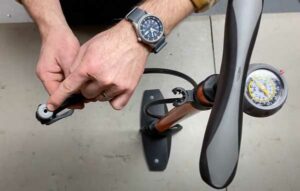 Library Tool Sets
We've partnered with the Ann Arbor District Library (AADL) to curate a number of reservable bike tool sets. They can be reserved and checked out on the AADL's website. 
Winter Biking Basics
In partnership with the Ann Arbor District Library, Common Cycle has produced a series of video tutorials on winter bike community.
Fix-a-Flat Flyer
Here's our fabulous illustrated guide to fixing a bike tire by the talented Sally Carson. Our friends at the City of Denver have kindly translated this flyer into Spanish.

Note from the Artist
"You're free to use and remix this flyer however you like, just be sure to leave the 'About this Flyer' section. The flyer is sized for printing on 8.5 x 11" paper, in a landscape orientation. Let me know if you need black and white. And please let me know where you're using it—in your own city's bike co-op, as a handout for a cycling advocacy event, as a sheet to give to customers at your bike shop, or just keeping it in your backpack for yourself.
DOWNLOAD FIX-A-FLAT (English|Spanish)